"Poetry, despite what has been written in the shadow of murky etymologies and unkempt epochs during the dull regenerative paces that compose our human time, is a little more than series of absurd acts of love we could never plan out in the morning or the day before at dusk"
- Cal Freeman, "Ars Poetica While Reading "The Death and Live of the Great Lakes"
The idea of "absurd acts of love" being in a poem, let alone in a poem about poetry, is one of the many profound moments in Cal Freeman's latest book, "Poolside at the Dearborn Inn." In the case of Freeman, this is the observation of a husband wading out into lake water to deliver a cocktail to his wife. These little human moments fill the pages and poems, and its what I've come to enjoy from "Heard Among the Windbreak" and "Fight Songs" in the fortunate years I've gotten to know Cal and his work.
"Poolside" came out in April, and while it would be a lie to say I waited to read it specifically until I got homesick for Michigan, having moved to Ohio over the summer, I did find myself yearning for much of the life unique to the Mitten Freeman loads these pages with. But it isn't just Michigan-for-the-sake-of-Michigan: this is a specific Michigan. Like Jim Daniels (who's latest, "Gun/Shy" I immediately read after this) or Elia Hohauser-Thatcher's "The Prophet's Toothbrush", this is A Guy's Michigan. There's nothing I love more than the Local Thing, and Freeman's homage to his late father ("University of Detroit: A Brief Memoir with Basketball and Poetry") is definitely A Guy's Michigan.
Maybe the lines of that poem echo especially to me because last year, during the Most Important Year of My Life, I too lived my working life where Professor Freeman taught "English in a brick building / where the ceiling tiles / regularly peel from their glue / and plummet." Maybe this reverie of the place I was when I became a father, which is a meditation on fathers, looms in a space of fond nostalgia for the life before my life. The Very Last Year, if you will. "A clocktower squeezes out the minutes / and chimes the half-hour" I read as I giddily get that reference.
But let's say you didn't also teach English at University of Detroit Mercy, or that you didn't get to see a warm celebration of life for John Freeman, or hear stories from his friends, his children, his colleagues, at the University library, ostensibly celebrating the release of this book but mostly the life of a titan. You'd still enjoy "Poolside at the Dearborn Inn," I am sure of it. People act like poetry is this obtuse thing that you have to "get." Freeman (and this is a compliment) makes it impossible not to. He tells you about his dad, about beer fridges in garages, about the Great Lakes, about birds, about history. And that's stuff we can all take with us. He tells us about philosophy, and theology, and about native tree-life to Michigan. He sees things, he tells stories about history.
But back to the idea of poetry as "absurd acts of love." The occasion for my reading this book (other than a craving for shawarma and a can of Hamms) was my toddler (I resisted the urge to write infant: he was an infant when I still lived in Livonia, a poem on its own really) having a tooth ache. Baby Motrin be damned, the dude couldn't sleep. I lit a dim light, held him in one arm, and Freeman's book in the other. To Ben: it was the reverberations in my chest soothing him. To me: it was the words making those rhythms that soothed the un-soothable. I confess, the baby probably didn't "get" the poems but I am convinced he enjoyed them. I know I did.
You might say reading poetry to a dude who has yet to fully acquire language skills is absurd. An act of love. A poem in of itself, if you will.
Don't let me make yet another post be all about the baby, though. The book, the poems, are good period. A few days after the toothache subsided Ben was at daycare and I had the day off, which I spent at a greasy spoon in Marysville, Ohio, with the book, cheap coffee, and hearty pancakes. I'm no sommelier, but this was a damn good pairing. Over the clatter of the weekday crowd, I was really struck by this verse:

We live in what people on the coasts
call "flyover country," where underemployed
industrial workers drink cheep beer
and play backyard games to kill
the time.
Killing the time with me at Mc Kinely's Grille were folks of all ages, who I will not condescendingly romanticize. But, as if lifted from the scene in a Freeman poem, one gentleman went around to each table of diners and, pointing to a picture of the original Marysville civic building said, "Welcome to court" and told the story of how this very building was the old courthouse, before it moved across the street, and then later down the block.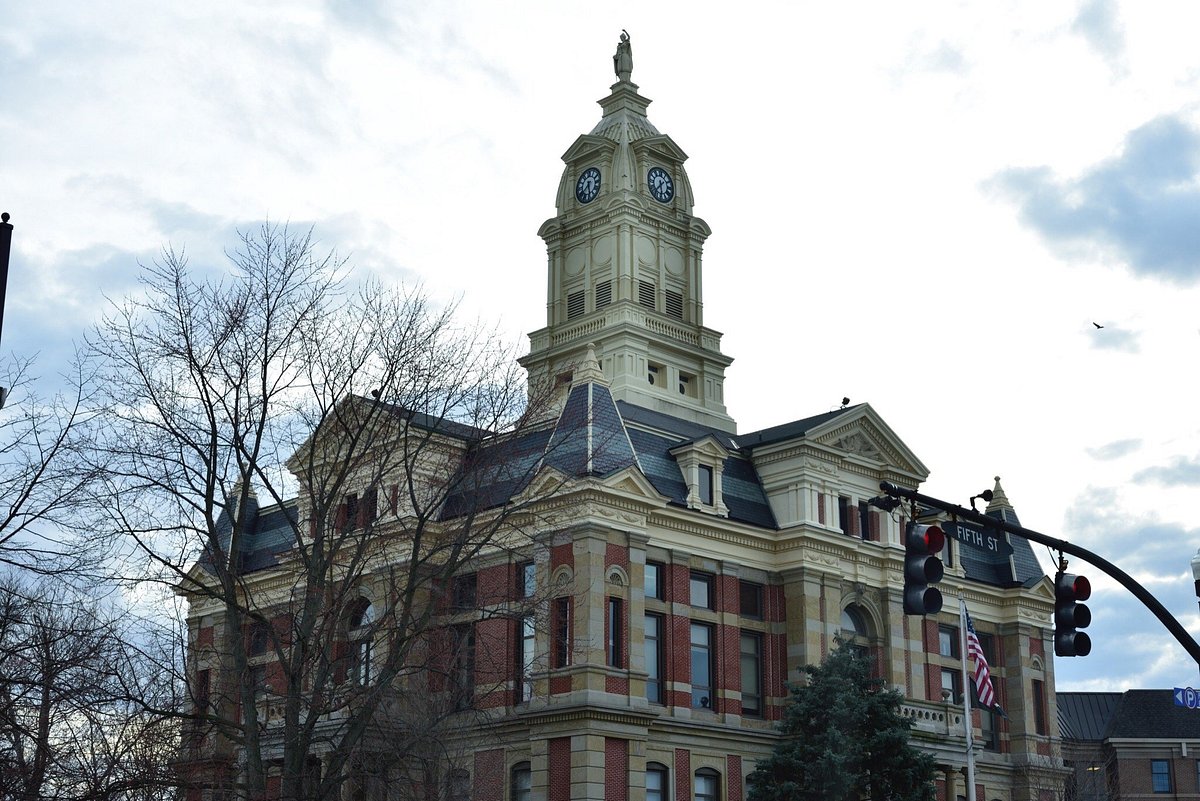 Now, it might mean nothing, but it could mean everything. "What are you nostalgic for today?" the opening line of "The Treacle and the Trace" asks me. In this third courthouse is the marriage certificate legitimizing my wife and I's union (in Union County, no less). The second courthouse sits across from me and my ceramic coffee mug. The original are the bones around me while I read this book.
What can we learn? To observe, to be an eye to the world, to nostalgia, to places and people who are important, to voices that need to be heard. "Poolside at the Dearborn Inn" does this. It also made me want a Faygo. Add history and storytelling to the list of "absurd acts of love." That's poetry in real life. My infant gets it. Cal Freeman gets it. Look up his poems. You'll get it too.