On October 8th, 2012, Jack White performed live at the then-named Lifestyles Pavilion, a venue where I have seen White (or side-projects he's involved in) three additional times since, in Columbus, Ohio. It the first time I saw any song by The White Stripes performed live with my own human eyes, so of course I was willing to travel from San Francisco where I'd moved four months earlier to see the show and loved ones left behind. Technically, that's only material to this story insofar that this story ends on an airplane which is where, for me ten years ago,
Afterman: Ascension
began.
The album itself begins with a muted instrumental, not altogether unusual for Coheed & Cambria, who stay busy weaving musical and narrative motifs in the dense science fiction universe their albums create. In 2012, that universe was called Heaven's Fence, and The Amory Wars story told the tale of Claudio Kilgannon, son of Coheed & Cambria, two IRO-bots built by Dr. Leonard Hohenberger during the events of the prequel Year of the Black Rainbow (2011, my first release as a fan and due to that personal favorite of their 10 albums). The two Afterman albums would be a prequel to the prequel, a split double-feature of Ascension and Descension coming in February 2013, that dramatize Sirius Amory's adventures into the Keywork, which is the network of energy binding together the 78 planets of Heaven's Fence. Dude leaves behind his wife (tough concept to deal with if you're in a cross-country distance relationship) to go on this long mission accompanied by a semi-sentient A.I. that lives in his spacesuit named "All Mother."
With all that being said, my understanding of the fiction of these albums is shaky because at the time, I didn't read the novella bundled with the two CDs (Descension was a blank CD-r with artwork printed on it - you had to burn the disc yourself once the MP3s were released!). It sitting in a storage unit in Michigan and I cannot wait to read it once the other half of my shit and I are reunited.
*
Coheed & Cambria, like Jack White, are insanely good at making guitar music, and I suspect that's the primary reason why I enjoy the bells and whistles of their expanded universe: it always comes back to excellent guitar music.
Take, for example, their newest album [pause for a breath]: VAXIS ACT II: A WINDOW OF THE WAKING MIND, which also shipped with an accompanying novella. Yet another opportunity to match the lyrics with lines of dialogue, a real Leo in Once Upon a Time in Hollywood reading experience.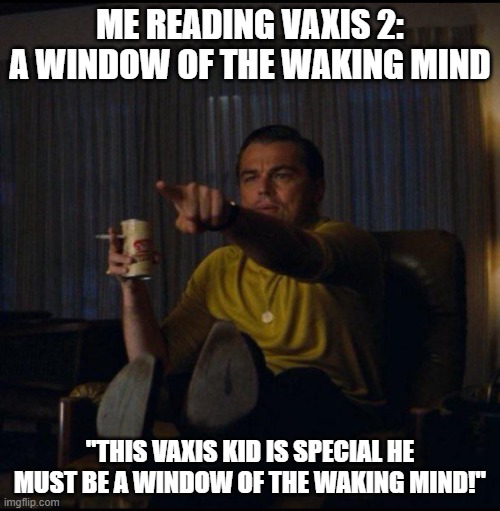 I want to talk specifically about the ending of the book, which in hindsight, is pretty obviously forecasted by the album art:
That astronaut dude right behind the cute kid (that's Vaxis!) is Sirius Amory, The AFTERMAN! Don't believe me? Consider the spoiler heavy final lines of the Act 2 book:
"A man fell to the floor in front of the Quintillian Speaker, strained to hold himself up on all fours. He wore a spacesuit ... The stranger wheezed once more before finally standing and drawing the helmet's face shield up ... He looked up ... fuzzy eyes blinking as they adjusted, and uttered four words. "All Mother, we're free.""
Reveal of the century if you're into that kind of thing. Even if you're not, remember:
excellent guitar musi
c. I finished the Act 2 book a few days ago, it not dawning on me how funny the timing of this reading which reaches back into the band's fiction for a huge callback, perfectly aligned with the decade milestone of that album's release. Naturally, I thought of
where I was when I first heard it.
The album came out on the very same day as that Jack White show I was just telling you about, which means, I didn't get to listen to it on release day. No worries, I wasn't want for music to listen to, and I was enjoying my own little Expanded Universe with friends left behind in Ohio during my very first homecoming after moving to California. I got to see the Mossmen Boys before the show, Eric went to the show with me, Rachel came over after. It was, by all accounts, a sprawling weekend made up of dozens of moving parts, bumming rides, eating pizza, and exchanging longing kisses in one particular case. I was drained, but the good kind, as I exited this weekend.
The opening track of Ascension is "The Hollow," an instrumental. Building a bridge across time and space to The Amory Wars' Part One, Second Stage Turbine Blade. It is a good instrumental. I love the All Mother's robotic voice dramatizing Sirius's sad tale of isolation, assuring him: "I'll be there every step of the way," while I (assisted by one of Southwest's 737s) am traveling away from my loved ones. The first proper song is "Domino the Destitute." Well, actually, its called "Key Entity Extraction I: Domino the Destitute." "Key Entity Extraction" refers to an event where Sirius is possessed by the various lives and ghosts consumed in the Keywork energy who sort of astral project him into the dramas of their own lives. Aside from that mumbo jumbo, the song whips. It is an eight minute epic. A real ass kicking table setter.
So imagine my surprise when the third track, "The Afterman," sets a somber tone way earlier than you'd expect a slow jam in a track list to be. "If he's not here then where?"

She teared, your selfishness has robbed you

of the man you could've been

I wouldn't change a thing about you

I love you dearly, my friend
Now, what Meri, Sirius's wife, is singing about is a perceived fatal accident during Sirius' launch into the Keywork, but, as with the best lyrics, it is impossible to distinguish the sci-fi from real life, and damnit if I didn't let this song destroy me all the way from Columbus to Chicago Midway. We had one of those layovers where the plane rolls up to the gate to get more people but you never get off. Grounded by distant. Close by away. If not here, then where? I think once the plane took off I let myself continue on to tracks four and beyond but I am, even ten years later, permanently haunted by the power that third song had, and how it hangs over the album.
*
I'm also hung up on Expanded Universes. How possible it is to just love one thing? But isn't it nice to let that one thing grow a huge web of other things? Coheed's music whips ass, to be sure, but if the guy introducing me to Coheed didn't also breathlessly recount the convoluted web of the Coheed E.U. am I as inclined to give them a fair shake? Hard to say.

But one thing is very easy to say: Afterman: Ascension holds up. These songs have the power to transport you back to row 14, seat E. They have the power to rock you. They have the power to stop you dead in your tracks. They have the power to tell their own brief and strange story, and while doing so, connect to a much, much larger story that's still ten years from happening.
Who knows what will pop up in the universe at the next milestone birthday? Maybe I'll be sitting on an airport's tarmac. Maybe I'll be home with my friends and family. If not here, then where? If not that Universe, then which? Its sort of fun to wait and find out, but I have to wait to tell you about that until after, man.